The SoCal Mako- the most underrated sportfish in Southern California!
This article is written for you to better understand what to expect when fishing on one of my fishing charters.
A tour we think you'll love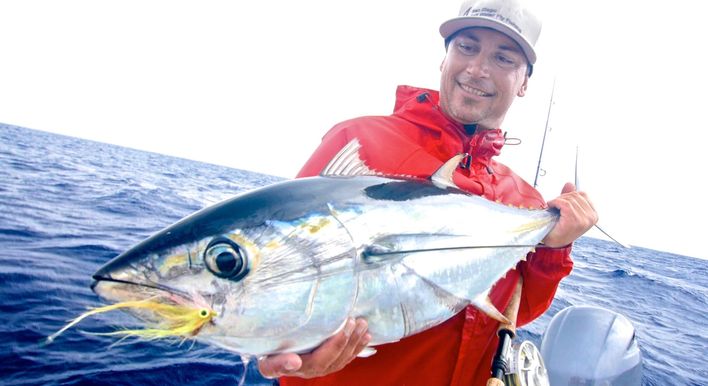 Offshore Fly Fishing
From $2,000
View tour
The Mako in its element.
As the waters off the coast of Southern California warm to a 62 degrees and warmer, one of my favorite Southern California gamefish come into play just off the coast of San Diego. Mako Madness!! When this happens I may turn my charter focus onto the Shortfin Mako Shark that visit our local and coastal waters giving us another option in our spring time fishery should other's slow down.
The busniess end of Mako!
In my option, sportfishing for Mako shark is a very underrated fishery. And this may be due to more and more charter captains going to catch and release practices which may turn off the meat hunters. My charter is one of those, catch and release only on Mako shark, which I compare it to catching and releasing marlin or sailfish in Costa Rica. Fishing more for the thrill of the hunt and the fight of a big game fish, getting it to the boat and then be able to successfully releasing it. So, if you are into hard pulling, insane site fishing, and tug-a-war with large predators, then you will like this charter that I offer.
A mid size mako pre hook up.
I consider spring and fall to be prime time for Mako fishing. For our spring season that would be the middle of May up to the middle of July. As we get closer to August, the Mako fishing seams to get slower as they tend to spread out more and we don't get as many multiple fish days. That does not mean they cannot be fished for or you can't have an epic day in August, but I haven't seen the consistency that I would like for chartering and recommend hitting the spring/early summer time if you can.
A juvenille mako ready for the release.
The Spring Mako's can be a mix of size ranging from 25 pounds to well over 500 pounds. These apex predators are not boat shy and my preferred method of fishing for them is going to be with the boat on a drift, running a chum slick. I prefer this method for quite a few reasons but will touch on one key reason. There wide range in size! Chumming while on the drift allows me to size up the shark and fish the right size tackle. Now when I say "right size tackle", I am not referring to a meat stick to just hook it and drag it to the boat. Rather, something a bit more sporty!
Smashing the chum bucket.
For those of you that have fished with me before, you know my tactics of how I size up a shark prior to the shark making it all the way to the boat. This can be a key part in successful hook ups. The rest of my techniques you will have to wait until you fish me to see them in play!!
Our bigger models, what we consider adults, can range in size from 300 pounds all the way up to 800 and more. Just being near these massive sharks while in the boat can be enough, much less being hooked up to one and feeling there power as they kick that tail. As big sharks enter the chum slick and begin stocking the source of the smell, which is the boat, the ocean around can get real quite. All signs of life may just vanish! You can just feel it in your gut that something big is out there lurking around. This is when we get out the big guns and get ready to tango! Strap in and go for a ride! The big ones jump!!!
A BIG mako getting airborn! (400 plus pounds)
When we fish for Makos, my hope is for you to be able to experience multiple sharks around the boat or to experience a multiple shark day. It's neat to see how they have different behaviors and personalities from one another. Each class size seems to have there own unique fight when hooked up. One shark may eat the bait and sit there and just roll over, while another may swim up to the boat and bite the chum bucket with the hook in his cheek. Then another may will feel the hook right away and take off giving an aerial show.
Capt. Mark after the releasing of a mako.
Sportfishing for Spring Mako's can be mind blowing when they are around, and boring when there not.. If you know how I run my charters, then you know I shoot for what is fishing best at the time and this springtime Mako adds another great fish to the arsenal of options for fishing here off the coast of San Diego.
I hope to see you one day on my boat and remember to Catch and Release sharks… We need sharks for keeping the balance!
-Capt. Mark
Here is my breakdown of what you may be fishing for when you book a fishing charter with me at different time of the year:
Spring Yellowtail- April/ May
Spring tuna season- April- June
Spring/ Summer Mako shark- May- July
Summer/ Fall Tuna season- August- November
Fall Mako Shark- October- November