As spring blossoms and our offshore waters start there upswing in water temperature, the one spring time fishery that has a lot of us charter captains waiting for, is our spring time tuna season off the coast of San Diego. And this means Bluefin tuna. And it can mean some bigger models too…
A tour we think you'll love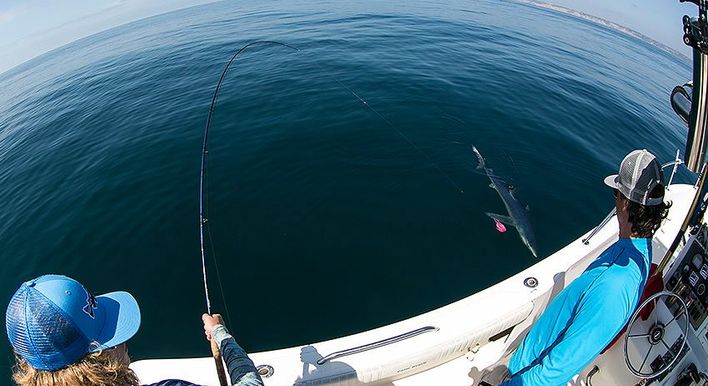 Mako Shark On the Fly
From $1,387
View tour
As we reach the middle of March, I will keep an eye out on fish reports that are coming in from our offshore waters. This is when we can start to see bluefin tuna get close enough to San Diego allowing for full day fishing trips to start running. Day range for me being within 60 miles from the coast. Once this happens, keep an eye on fish reports and make sure to get out when the fish are biting……
When the these fish show up, I will start running trips full speed for these I will be turning my focus to these bluefin during my spring charter season. These fishing trips require a full day day trip (12 hours), but if the fish are close enough we have the option of going for it on a 3/4 day charter (9 hours). The fishery for these bluefin can range anywhere from 15 miles off the coast of San Diego, to San Clamente Island, and anywhere in between……….
Now let's talk about fishing these spring time tuna. This is one of my favorite times to fish tuna here in San Diego. It can be much tougher to get the fish to bite, but the style of fishing and size of fish is what draws me to it. At this time of the year, our waters get full of bait and there can be a lot of it, and when there is a lot of bait around, the fish can get keyed in on a particular bait and they may not want anything else.
This is when we need to switch tactics to a "reaction bite" style of fishing. And we do this in two ways. One is while the fish are up at the surface and still in a frenzy! As the bait pushes to the surface and the tuna start feeding, we will be doing a "run and gun" type of technique, chasing the schools of fish around with the boat, trying to get close enough to present a bait while they are still in a "frantic feeding frenzy". Once we are close enough, we will be casting jigs like surface irons, poppers or stack baits and even at times, if they stay up and let us get close enough, pitch a live bait into them.
The other style of fishing will be done by fishing with a kite to present the bait to these fish. We will do this in two ways. One way is getting to the zone where fish have been holding and putting up the kite to troll a yummy flyer, a plastic lure that imitates a flying fish. This will allow us to stay mobile while searching the zone for signs of fish that are either up on the surface or marked on the sonar down deep. We will troll around keeping the flyer far off of the boat while skipping it across the surface to mimic a flying fish.
The next form of kite fishing will be done with the boat set up on a drift. When I get into a fishy area and see fish working the surface or meter fish above a certain depth from the surface, we will rig up a real frozen flying fish and send it out off of the boat with the kite. This is some of the most exciting fishing to witness when the bite is on. You can see these triple digit fish blow up on the surface eating the rigged flying fish sometimes with in 50ft of the boat. It's quite the show!
As we progress through spring, we will also start seeing some yellowfin tuna come into range. Fishing for these early season yellowfin tend to have us fish the same "reaction bite" style of fishing. Chasing these schools of fish around while they are up on the surface, and casting jigs into them.
As we pass through spring and enter our summer months, we will see a bigger volume of fish showing up the line into our waters. Once these fish move in and eat up all the bait, we will start to fish more traditional styles of fishing for tuna, being trolling and fishing with live bait.
Now that you have an understanding of what I will be fishing for during our Spring fishing season, go ahead and plan your fishing trip or just know that if you happen to be in San Diego during the spring months, there is a chance to fish for some hard pulling fish.
-Capt. Mark
Here is what we will be fishing for on my fishing charters:
Spring Yellowtail- April/ May
Spring tuna season- April- June
Spring/ Summer Mako shark- May- July
Summer/ Fall Tuna season- August- November
Fall Mako Shark- October- November
ASK CAPTAIN MARK A QUESTION- DROP A LINE!
SEE MORE MEDIA BY SAN DIEGO SALTWATER FISHING CHARTERS!