$75 OFF ALL CORONADO ISLAND 3/4 AND FULL DAY FISHING TRIPS FOR THE REST OF APRIL 2021!!- SEE DETAILS BELOW
The start of it all… this article is to help you better understand what we will be fishing when you book a Springtime fishing charter with me.- Capt. Mark
A tour we think you'll love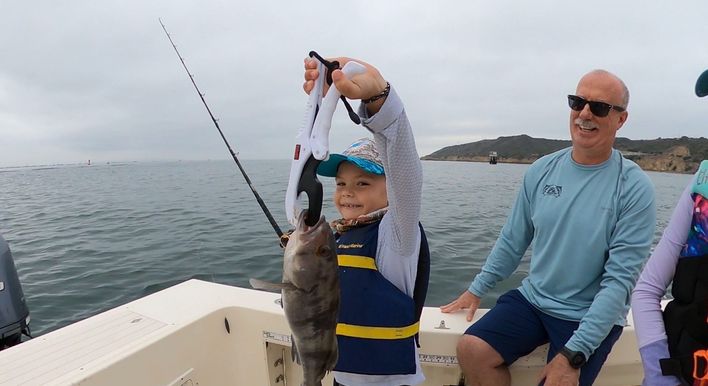 Half day trip
From $960
View tour
As the waters in Southern California warn up and we recover from our cold San Diego winter, Spring marks the start of my fishing season for fishing off the coast of San Diego. Starting at then end of March and begging of April, we can start seeing an influx of yellowtail start to show. The game begins….
Adam with a early Spring Yellow caught at North Island
Once a consistent number of Yellowtail start being caught, I will start focusing my charters on these bruisers of a Jack from the coastal waters of La Jolla and Point Loma, to the Coronado Islands and rock pile. This can happen as early as the middle of March and can be in full swing come April lasting all spring into summer and fall.
My Springtime 3/4 day and full day trips will be heavily focused on yellowtail fishing. We will be fishing areas of the Coronado Islands (20 miles south of San Diego in Mexican waters) and down to the rockpile (located another 12 miles south into Baja). Keep in mind that passports are required for this fishery. April can also mark the start of when we see yellowtail start to move up the line from Baja into southern Californian waters. As this happens, yellowtail can be found in our offshore waters. This is the time to start looking for kelp that may be holding yellows. A mix of offshore and Islands can make for a good combination in finding yellowtail and getting the job done.
Surface iron caught Yellow at South Island
As Spring moves on the yellowtail fishing only gets better. My half day fishing trips and half day fishing trips with additional time added on, will start fishing our local waters for yellowtail; being La Jolla, Point Loma, and Imperial flats. On these coastal trips we will focus on bird schools, meter marks, and trolling rapalas or slow trolling sardine or maceral to locate and target these yellowtail.
Yellow caught during a bite at SKR
Now that you have a better idea of what we will focus on when you book a charter during the early Spring season, start planning your fishing trip. Whether you are going to be visiting San Diego on a family vacation, in town on business, or live in Southern California, book your day and get a taste of these spring season Yellowtail.
$75 OFF ALL CORONADO ISLAND 3/4 AND FULL DAY FISHING TRIPS FOR THE REST OF APRIL 2021!!
AVAILABLE DATES: 4/18,4/25, 4/26, 4/27, 4/28, 4/29, 4/30
USE PROMO COUPON YELLOWTAIL AT CHECK OUT
Spring time yellowtail while fishing outside the Coronado Islands