San Diego Bay is a coastal utopia and among the leading fishing spots in Southern California. When you're exploring Southern California, and you happen to stop by the 12-mile long x 2-mile coastal Bay, you can engage in pier fishing and boat fishing. There is a gazillion of fish in this Southern California deep-water port and natural harbor. If you're an all-year-round angler, the aggressive bay bass and sand bass are available all year round. You can catch these fish using the same fishing gear and tactics used to catch Lake largemouth bass. The following are interesting things to know when fishing in this coastal Bay.
It Is The Leading Fishing Destination In United States' Western Coast
A tour we think you'll love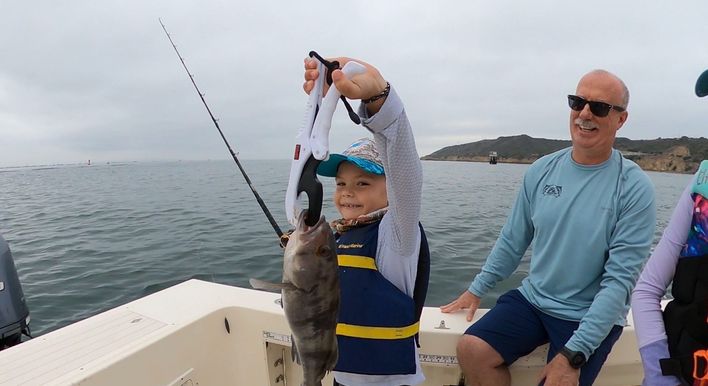 Half day trip
From $960
View tour
This coastal Bay stands out as an outstanding deep water bay, boasting dozens of saltwater fish. It is a top-rated southern California fishing spot where pro and beginner anglers can catch fish such as sand bass, California halibut, bay bass, and leopard sharks. Angling in this bay is fun and you can catch up to 30 fish, angling 6 hours a day.

There Are Many Fishing Charters
This Bay has many private fishing charters ready to offer exhilarating and professionally guided San Diego Bay fishing experiences like no other. With help of our charters, you'll get to explore and fish in synthetic reefs, hard bottom structures, and local kelp beds. Riding on the fishing charters, you can enjoy deep fishing and capture fish species such as yellowtail, tuna, dorado. We make the tours client-centered: you can get an immersive view of the shelter island pier while pier fishing. We use fishing gear, including standard cut baits, artificial lures, and live bait.
Spotted Bay Fish Species Are Pretty Common
Bay bass fish are in abundance in this coastal Bay. You can find bay bass in rip raps, rock piles, grass beds, and artificial structures are available all through the Bay. You can use the standard manmade lures such as spinnerbaits, artificial flies, swimbaits, crankbaits, and soft plastics. Besides spotted bay fish, you'll find other bigger fish species, including the California halibut, leopard sharks, and barred sand bass.
Boat Fishing Is Highly Recommended When Fishing For Sand Bass
Sand bass species are available in plenty in this coastal Bay from November to March. They are often bigger and school up in large numbers in the bottomless bay waters. Therefore, they are easier to catch when you're boat fishing. You might still catch some while angling on the shore, but better results are assured when you're angling in a boat.
There Are No Costs To Access Fishing Spots
San Diego Bay is open 24/7 throughout the year. It's free to access fishing spots at this bay. You won't have to pay anything to the angle from public fishing piers like the shelter island pier, launch and ride a boat at the Bay's public ramps or catch your favorite fish species.
You Need A Valid Fishing License To Fish In This Bay
Although you won't need to pay a dime to fish in this Bay, you will need an active California sportfishing license. The stamp must have a saltwater stamp, especially if you're going to fish in any of the private fishing piers. If you prefer fishing in public fishing pieces, you might not necessarily need a sportfishing license.
There Are Six Wonderful Fishing Piers In This Bay
If you love pier fishing, this coastal Bay offers you an option of six notable pier fishing destinations. Cesar Chavez Park Pier is ideal for offshore deep-water fishing and has picnic areas, restrooms, bike paths, and playgrounds. It's highly recommended for its bountiful choice of leopard sharks, California halibut, spotted bay bass and barred sand bass. If you're not satisfied with the fishing experience at this pier, you can explore other options, including Pepper Park pier, Chula Vista Bayside, Shelter Island, Coronado ferry landing, and Embarcadero Park pier.
Inshore Charter Fishing Can Last Up To 9 Hours
Most inshore charter fishing tours will last up to nine hours. Most charters will take up to 10 miles, riding through the artificial reefs, Point Loma kelp beds, and La Jolla kelp beds. The fish species one can catch while exploring these waters depend on the time of the year, but you're almost sure to catch California halibut, yellowtail, calico bay bass, or white seabass fish.
Common Baits For Pier Fishing
When fishing in this deep-water bay, you can use dozens of baiting solutions. You can use sardines, bloodworms, anchovies, squid, and shrimp, which are available at the bait shops and local piers. You might also try live bait if you find it suited for your unique fishing needs, but don't forget that not many bait shops offer live baits.
Can I Process My Catch?
You can have your catch processed by the boating crew or the local processing facilities. The process may be done at an additional price, but you're assured that your fish will be fillet, frozen, and vacuum sealed.
When planning a San Diego Bay Fishing trip to Southern California, consider reaching out to our expert charters at San Diego Saltwater Fishing Charters. We are a trusted and revered private fishing charter that attends to the fishing needs of hard-core enthusiasts, beginners, and pro anglers. We promise to offer anglers the warmest fishing experience ever.