WHAT YOU WILL BE FISHING FOR….. AND WHEN.
This article is to help you better plan your San Diego vacation and fishing trip with Capt. Mark around what he will be fishing for at the time.
A tour we think you'll love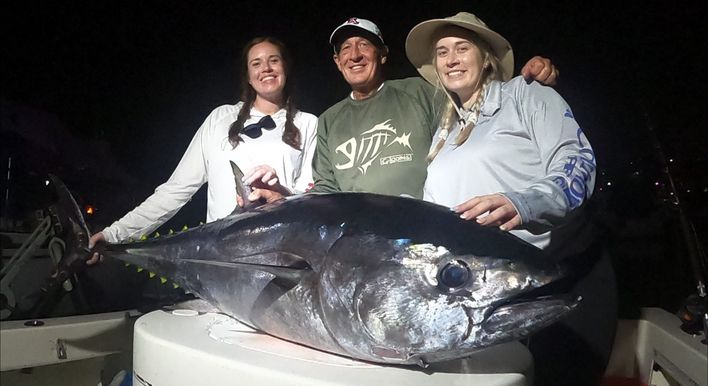 Trophy Bluefin
From $2,241
View tour
Although San Diego has options for fishing year round, every captain may fish for something different at different times of the year. On my fishing charters, I fish for what is fishing best at the time., and that can break down into different seasons and different months.
In any case, there is a pattern to when I fish for certain fish at certain times of the year. Below I explain what you can expect to be fishing for, when booking a fishing charter with me!!
Spring Yellow for Mr. Kalm.
My fishing charters really start to kick off at the start of spring when water temperatures raise just enough for the Yellowtail to start getting actively on the chew. This can happen as early as the beginning, to middle of March and be in full swing come April. Springtime Yellowtail is one of the species I will target during are spring season months of April – May. These fish are a favorite here in our Souther Califonia fishery!
Capt. Mark with a spring bluefin caught on surface iron.
As we start progressing through spring and get closer to summer, April – June, we may start seeing our first showing of tuna. In past years this pattern of spring time tuna has given us shots at some bigger size bluefin tuna and our first showings of Yellowfin tuna, all within a days range. This is our run and gun tuna style fishing during this time. Casting poppers and surface irons into breaking schools of fish! So keep an eye on our fish reports as this can start fishing as early as March!! This may a great time to come fish for some big grade bluefin when they in range for us and biting. IF YOU SEE A BITE HAPPENING IN REPORTS YOU WANT TO GET OUT AS QUICK AS POSSIBLE.
School of tuna breaking the surface.
At the same time as seeing our first showing of tuna (may- June), we will be in our prime time Mako shark season. Starting as early as the middle of May, and going through the middle of July, I may spend time working the inshore banks for Mako shark. Our pattern the last couple years has seen some of the better fishing for Mako in June with some big model Makos lasting through July.
Now we start have the options to fish a couple different types of gamefish depending on what is biting best at the time or just biting in general. The yellowtail bite get's slow but the Tuna start to bite. The tuna stop biting and now we are inshore hooking big Makos. I think you know where I am going with this… It's the start to options season.
The release of a Mako Shark (all sharks are catch and release only)
As we pass by spring and enter our summer months (July, August, September) we will start having even more options of fish to fish for. Come August, I will take a break from our inshore Mako shark and spend more time venturing to our offshore banks with August marking the start of our "offshore fishing season" in San Diego. This is when we start seeing a wider variety of offshore species like Dorado, Skipjack tuna, Marlin, and yellowfin tuna showing up in our waters and moving closer into range. We will also have better fishing around the islands and coastal waters for calico, yellowtail, bonito, and baracuda. Now my charter options can range from our coastal waters to the Coronado Islands or offshore banks, to which ever fishery is fishing the best at the time.
Double up on yellowfin during prime offshore season.
Now our water temperatures have peaked and we enter our fall season (October- November). While we are still focused on offshore fishing, our fall Mako shark season is starting to come into play for us. Our fall Mako season and offshore season can, at times, last up to thanksgiving and into December. Fall fishing can be fantastic, so don't think that summer is the only time we are able to fish our offshore fishery.
As winter closes in and our water temperatures start cooling, our pelagic travelers will start venturing out of our range and winter will set in. For me, this is pretty much the end of my chartering season, but there are still fish out there to fish for until our rockfish closure starts at the beginning of the new year.
As offshore comes to an end our Rockfish beomes the option.
Now that you have an understanding of what I will be fishing for during the course of the year, go ahead and plan your fishing trip based around a specific fish you want to catch or just know that if you happen to be in San Diego between April and December, there are some hard pulling fish to be had.
I hope this helps you in planning your next fishing trip when visiting San Diego.
Just remember, the best time to fish is when you can!
-Capt. Mark
Here is my breakdown of what you may be fishing for when you book a fishing charter with me:
Spring Yellowtail- April/ May
Spring tuna season- April- June
Spring/ Summer Mako shark- May- July
Summer/ Fall Tuna season- August- November
Fall Mako Shark- October- November