Why Should You Fish In The Coronado Islands?
The Coronado Islands are located in Mexico, 20 miles south of San Diego. Not only is the scenery beautiful, but the water is calm, which makes your trip even better since you won't be traveling far from land while still being able to see dolphins playing around or whales breaching out of the water. The Coronado Islands are also home to thousands of seals.
A tour we think you'll love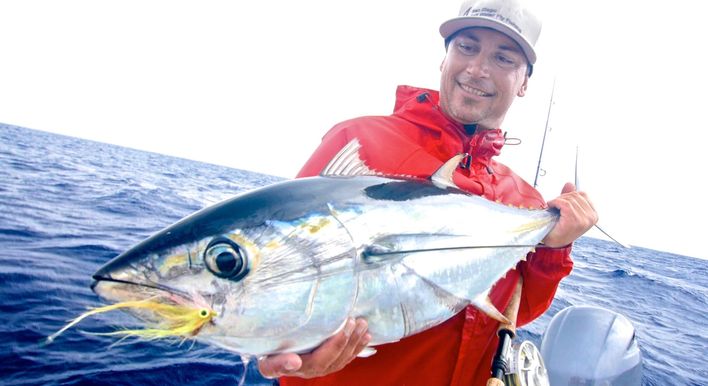 Offshore Fly Fishing
From $2,000
View tour
With miles and miles of coastline, you'll find species such as Tuna, Yellowtail, and Rockfish, to name a few. Whether you're new to fishing, just getting started, or an experienced fisherman looking for a change of pace, the Coronado Islands offer some of the best saltwater fly-fishings in San Diego area.
7 Things You Need To Know About Fishing In Coronado Islands
1. There Is A Lot Of Fish In The Coronado Islands
Fishing at the Coronado Islands can provide fishers with some of the best catches they'll ever get their hands on. These pristine and beautiful islands offer fishermen an array of different fish to target depending on what season it is, including Tuna, Yellowtail, and Rockfish. The islands are also home to Grey Seals and harbor seals.
The Coronado Islands are home to one of the world's largest populations of Grey Seals and their pups during the summer months, so there's a good chance you'll get to see them frolicking in the water while you're out on your trip. If not, plenty of other fish species will be around for fishermen to target and reel in, like the amazing Tuna bites. The period between November and March is perfect for bass fishing in San Diego area. When you go bass fishing, remember the best times to catch calico bass and white seabass are early in the morning or late in the afternoon. Remember to adhere to the bag limit for the different fish species.
2. You'll Have Access To Miles Of Coastline
Fishing from a boat allows you access to several miles of coastline without limits or restrictions placed upon where one can go. When going out on boats, you have access to numerous miles of coastline with no boundaries or limitations put into place by officials keeping fishermen from certain areas they cannot enter. This gives anglers a great opportunity to explore and find new fishing spots.
3. The Fishing Trips Are Exciting And Memorable
Fishing trips are exciting and memorable, providing a lot of memories that will last a lifetime. Some people enjoy getting on board a private boat charter, while others prefer to rent personal watercraft like jet skis or kayaks to get into waters faster than if they were using traditional means of transportation. When you get on the fishing charters, you can expect to have a fun experience from which you will make a great catch. The choice is ultimately up to each individual, but both options provide individuals with access to water and lots of fish. The fishing trips in San Diego are perfect for the novice and the experts, so you don't have to worry if fishing is not your expertise.
4. You Will Need A Mexican Fishing Permit
If you're fishing Mexican waters, a Mexican fishing license is required. You can purchase these permits at most sporting goods stores or online. The cost of the permit varies depending on how long you'll be fishing for but typically runs between $15 and $30. A personal fishing license is a requirement for anyone who is onboard a sports fishing boat, regardless of whether they are fishing or not.
5. You Need A Biosphere Bracelet
To fish in the Coronado Islands, you will need a biosphere bracelet. The biosphere bracelet is an identification bracelet that identifies you as a participant in the marine protected area (MPA). Fishermen are not allowed to fish in MPAs without a valid biosphere bracelet so make sure you have one before you go fishing Mexican waters. These bracelets can be purchased at most sporting goods stores or online. The cost of the bracelet varies depending on how long you'll be fishing.
6. You Will Need The Right Equipment
There are many different types of gear that any fisherman needs when they go out on boats ranging from rods & reels, bait, tackle boxes, and more. Before going on your trip, it's important to make sure everything you'll need has been packed ahead of time, so nothing gets left behind during departure from shore. When it comes to baiting your hook, many different options will work well when fishing in San Diego. If you're not sure what to use, it's always a good idea to ask the locals what they're using and see if they have any tips for you.
7. The Weather Is Perfect For Fishing
The weather in San Diego is perfect for fishing nearly year-round. The climate is mild, with great temperatures for fishing. While fishing at the Islands is great all year round, a few times of year are better than others. The late summer and fall months offer some of the best Yellowtail action you'll find in California. Tuna can be caught year-round, but the best time to target these fish is late winter and early spring.
The Coronado Islands offer an excellent fishing experience to those who journey out there. If you follow all of these tips and keep them in mind while planning your trip, you'll likely have a successful day on the water catching many fish. You should also check local rangers for advice before going if possible because they can give great insight into what each fisherman will be up against when heading out to sea. As long as everyone is aware of safety procedures and important details ahead of time, then anyone has a good chance at coming home with some impressive catches. If you're looking to experience the best fishing trip at the Coronado Islands, reach out to us!