If there is one thing that San Diego was blessed with is the world-class fishing spots. Indeed, the state of California is known for some of the greatest fishing places. But no other place in the state can boast of better spots for fishing than San Diego.
What then makes San Diego such a good fishing place? Below are some reasons that make San Diego a top fishing spot:
A tour we think you'll love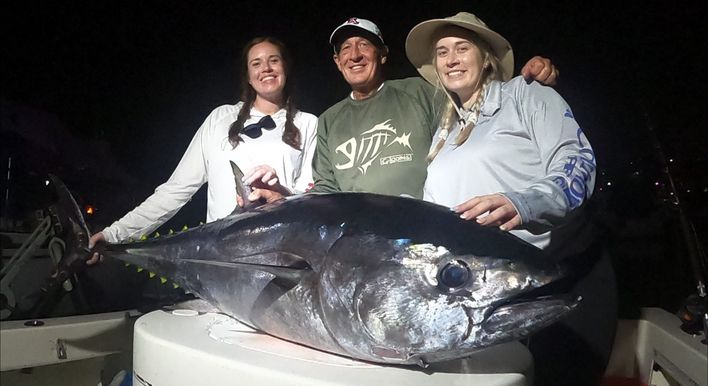 Trophy Bluefin
From $2,241
View tour
Favorable laws regarding fishing.
Accessibility to enough water.
Comprehensive guidelines on the protection of the environment.
A robust ecosystem
Below are some of the best fishing spots in San Diego:
La Jolla
One of the top fishing spots where you are guaranteed not going home empty-handed is La Jolla. Among many reasons you should come to La Jolla, a fishing expedition is first on your list. From halibut, barracuda to calico bass, La Jolla has plenty of it. You can be angling from the shoreline, but you can be sure there is something for you to take home. Without forgetting, at La Jolla, fishing is all year-round.
San Diego Bay
At San Diego Bay, the entire shoreline stretching 12 miles offers excellent fishing spots. If you have been to the Bay, you will attest to it. Shore fishing at San Diego Bay offers the greatest opportunity, whether angling from your boat or land. Therefore, you can have uncountable access points for both boat and shore fishing.
It may be your lucky day as you can catch a large variety of species. The Bay is well known for such varieties as spotted bay bass, halibut, and bonefish. Fishing spots like Marina and Embarcadero are amazing if you love Spotted Bay Bass, Bonefish, or Halibut.
Ocean Beach Pier
At 1,971 feet, the Ocean Beach claims one of the longest landings in the county of San Diego. Therefore, it is an excellent spot for sightseeing with its sweeping views as well as fishing. In addition, it has Ocean Beach Café in the vicinity for good eats. Also within ocean beach is a well-stocked bait and tackle store. You can get all the equipment and gear you need for your fishing experience. You will expect to catch bass, perch, and mackerel if you opt to fish in deeper waters.
Mission Bay
Mission bay is another fishing spot with pristine shorelines that you will want to discover. Though the protected waters of Mission Bay make part of Mission Bay Park, the place is still open to anglers. As such, there are still numerous spots from which you can cast your line. Some of the catches you will be delighted to get are halibut, spotted bay bass, and corvine.
In addition, the place is served with numerous family recreational facilities. So it will be fine to go fishing with your family. Mission bay is thus a perfect place for a family vacation and visitors interested in fishing excursions.
Shelter Island Pier
Shelter Island is one of the best fishing piers near Point Loma in San Diego. The pier is T-shaped and extends 200 feet from the shoreline. Besides, it is straddling 500 feet in length, thereby offering enough room for fishing. Also, the pier is served with all fishing amenities, including a bait and tackle store and fish cleaning station. The most popular species you can catch include barred sand bass, calico bass, bonito, barracuda, and many more.
Is a Fishing License Necessary in San Diego?
Usually, you may or may not be required to get a fishing license if you need to fish in California. It all depends on the individual spots you desire to go fishing. You will need a license to fish in most of the best fishing spots. Otherwise, all the seven public piers are free fishing zones.
However, to qualify for a California fishing license, you must be 16 years or older. The cost of a fishing license varies based on the category of the licensee. For instance, residents are charged at than non-residents for a sport fishing license. Similarly, the fishing license is free for disabled Native Americans as well as low-income earners. Lastly, licenses issued are flexible in terms of the duration they cover. If you are not staying for long, you can opt to take a one or two-day license.
Concluding Remarks
San Diego Saltwater Fishing offers a unique experience for novice and seasoned fishing enthusiasts. Therefore, you should create time to enjoy fishing in San Diego whenever you're on vacation. It will be a fulfilling encounter that you won't forget any time soon.